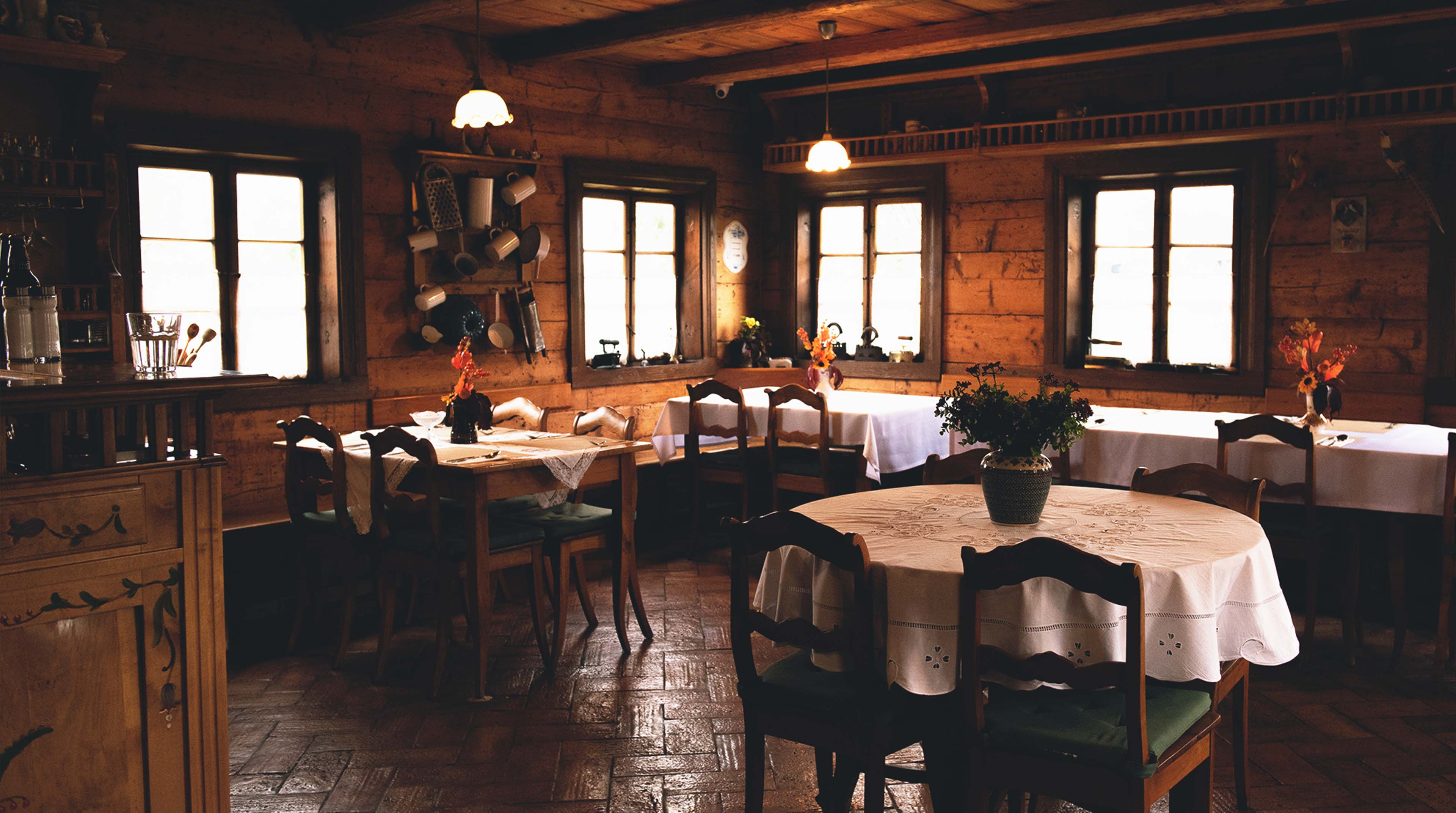 Restaurant menu
Appetizers
Fried goat cheese with arugola salad and cranberries
34 zł
Mixed Green Salad with crispy croutons, tomatoes, pesto and mozzarella
34 zł
Baltic herring (100g) with apples and sour cream
28 zł
Beef tartare with roasted onions and mushroom chips
36 zł
Salads (200 g)
Mixed Green Salad with grilled chicken, ricotta and "tartare" sauce
34 zł
Duck salad with honey and ginger dip
35 zł
Mixed Green Salad with grilled salmon, avocado, vinaigrette sauce
35 zł
Soups (300 ml)
Chicken broth with noodle
20 zł
Polish Rye Soup with egg and white sausage
22 zł
Tomato Cream Soup served with baguette
18 zł
Vegetarian
Dumplings filled with potato and cheese served with sour cream or fried onion (6pcs.)
30 zł
"Szagówki", cottage cheese and potato dumplings served with hot cherries or breadcru
37 zł
Lithuanian pancakes with smoked salmon and sour cream
37 zł
Poultry
Sous Vide Duck Fillet, Silesian noodles, apple mousse, apricot, mixed green salad
55 zł
Sous Vide Grilled Chicken Breast, grilled pear, gnocchi, lemon sauce, mixed green salad
45 zł
Pork
Sous Vide Pork Tenderloin (150g), Silesian dumplings, grilled chicory, onion sauce, mixed green salad
48 zł
BBQ ribs with mustard mousse and grilled potatoes
46 zł
Polish Style Pork Chop (100g) with fried cabbage (100g), potato puree (100g)
44 zł
Pork knuckle (1 piece) on fried cabbage with bread
48 zł
Beef and veal
Sous Vide Veal (100g) with porcini mushrooms, Silesian dumplings and cabbage
56 zł
Sous Vide Grilled Beef Tongue (150g), potatoes, onion sauce, grilled vegetables
48 zł
Beef steak (150g), grilled vegetables with Paris potatoes, sweet and sour sauce
78 zł
Fish
Trout Fillet, grilled vegetables, butter-lemon sauce
48 zł
Zander Fillet (180g), rice noodle with spinach, kale, parmesan, mixed green salad
50 zł
Pikeperch fillet (180g), rice pasta with spinach, kale, parmesan cheese, bouquet of crisp salads
50 zł
For our Little guests
Apple Pancakes (2 pcs.) with powdered sugar
32 zł
Poultry entrecote (50g) with fries (70g) and baby carrots (70g)
35 zł
Dessert
Cheesecake with vanilla ice cream and chocolate sauce
26 zł
Apple pie with vanilla ice and vanilla sauce
22 zł
Chocolate pie with hot cherries
22 zł
Ice cream desserts - ask staff for availability
Drinks and beverages
Hot
Espresso (50 ml)
10 zł
Black "créme" Coffee (200 ml)
12 zł
Cappuccino (200 ml)
14 zł
Latte (200 ml)
14 zł
Latte macchiato (200 ml)
16 zł
Chocolate (200 ml)
16 zł
Tea - various flavours (250 ml)
16 zł
Cold
Coca-Cola (0,25ml) Coca-Cola zero (0,25ml), Fanta (0,25 ml) Sprite (0,25ml), Kinley (0,25ml)
10 zł
Cappy juice (0.25 ml): orange, black currant, apple, grapefruit, tomato
9 zł
Fuzetea (0,25ml)
9 zł
"Kropla Beskidu" still 0,33/0,75
10 zł/ 18 zł
"Kropla Delice" sparkling 0,33/0,75
10 zł/ 18 zł
Kvass
Kvass (0.5 l bot.) Lithuanian
16 zł
Beer
0,3 l 0,5 l
Beer "Brackie Pils"
12 zł / 15 zł
Beer "Żywiec dark"
12 zł / 15 zł
Beer "Żywiec pszeniczne"
15 zł
Beer "Żywiec porter"
15 zł
Beer "Żywiec" alcohol-free (0,5l bot.)
15 zł
"Beer on a wheel" 5 mugs of Beer, one for free 0.5 l
60 zł pils / 60 zł żywiec
Mead (50 ml)

Dwójniak kasztelański (1:1 mead)
14 zł
Trójniak benedyktyński (1:2 mead)
12 zł
Wine
Available on the wine list
Vodka (50 ml)
Vodka:
Lemon, cheery
14 zł
Żołądkowa gorzka, Żubrówka
14 zł
Wyborowa
14 zł
Pan Tadeusz
16 zł
Finlandia, Baczewski
16 zł
Siwucha
16 zł
Wódka "na łokcie" (5 portions set, 1 portion for free)
56 zł - 64 zł
Other alcohols:
Campari (50 ml) Orange (100ml)
28 zł
Gin Gordon's (50ml) + Tonic (0,25 ml)
28 zł
Hennessy (50ml)
26 zł
Martini Bianco, Rosso, Dry (100 ml)
26 zł
Whisky (50 ml)
Jack Daniels
26 zł

Jack Daniels + Coca-Cola (0,25ml)
29 zł
J. Walker Black
26 zł
Ballantine's
24 zł
Zagroda Kołodzieja - restaurant
The best flavors combined with the tradition and idyllic atmosphere of a 200-year-old house make the time spent at Zagroda Kolodzieja an unforgettable culinary journey.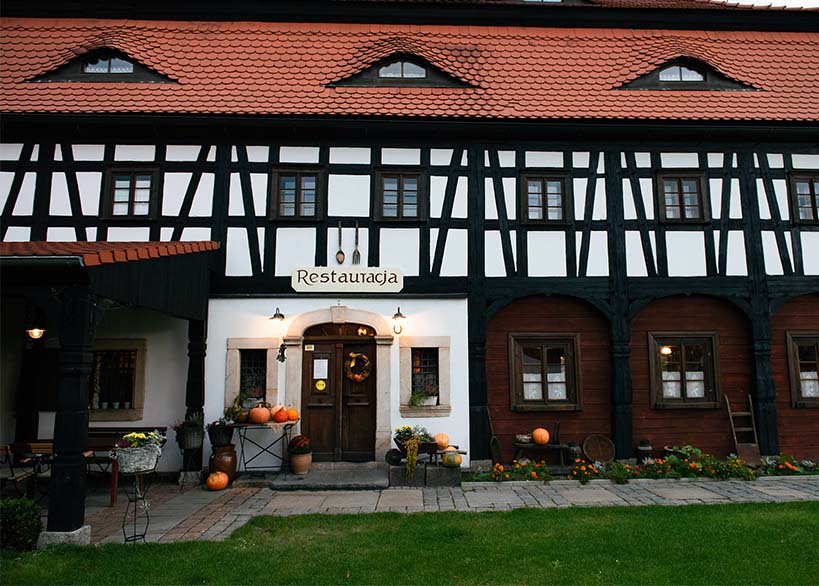 Traditional flavors combined with sophisticated modernity...
The restaurant menu is created for people who appreciate traditional cuisine served in a new, often surprising version. In our menu you will discover proposals for original dishes prepared with the use of the sous vide method, which makes it possible to extract the maximum natural flavor and aroma of dishes.
For gourmets of jar cuisine await dumplings, noodles, shagovki and Lithuanian blinis prepared according to a long-standing recipe. Our menu is composed on the basis of carefully selected products, which we obtain from local suppliers. All this makes us satisfy even the most demanding tastes.
A visit to Zagroda Kołodzieja is not only a culinary feast for the palate.
It's a place where you'll delight in an atmospheric log cabin and an intimate room filled with hand-decorated wall paintings, where you'll discover the charms of aromatic food. Sipping coffee in the courtyard/shade in front of the house, overlooking the clearing, you will feel the atmosphere of idyll.